CIVIL ENGINEER Gordon Lynn moved to Inverness from Edinburgh in 1975. Not being from Inverness originally, he was most amazed one day when he saw an aerial photograph from 1928 which showed all the buildings on the west side of Castle Street, from the Gate House at the top of the hill to the Town Hall buildings at the foot, the latter of which is all that remains today.

Over the years vintage photographs of Inverness appeared in various publications featuring long-gone buildings of ornate design and beauty, particularly the old Caledonian Hotel as it was before the new concrete structure was erected. These photos presented views of streets diagonally and of individual buildings, but Gordon wanted to see for himself what these streets looked like collectively – and to scale – in order to produce a true panoramic view to appreciate just what the entire street once looked like.
After years of research and sifting through photographs and documents at the Highland Archive Centre, the Royal Commission for Ancient and Historical Monuments (RCAHMS) in Edinburgh and the Highland Council's Am Baile, Gordon gathered enough data to be able to put together the first pen and ink drawing of the west side of Castle Street.
Much more material was uncovered during this research and it became evident that many more buildings, and in some cases entire streets, had long since disappeared. It therefore seemed a natural progression after completing the Castle Street drawing, to move on to the south side of Bridge Street, then on to Exchange Place, Gordon Place and then Bank Street alongside the River Ness. The latest drawing is of Friars Lane to the side of the Old High Church at the end of Church Street.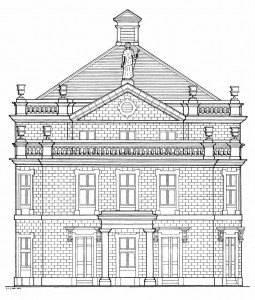 Along the way, Gordon has come upon individual buildings which are interesting in their own right, for example the Theatre Royal in Bank Street which burnt down in 1931. The theatre started off initially in Theatre Lane (now Hamilton Street) behind Inglis Street and feels that it warrants further investigation to see what it looked like when it first opened in 1805.
Some of Gordon's work can be seen on the Am Baile website and a selection are also housed at the Highland Archive Centre where they are regularly shown to visiting school groups to highlight what can be produced utilising all of the invaluable documentation that is held in their possession.
Taking inspiration from William Glashan's paintings of bygone Inverness Gordon has found that with one street leading to another, there is still a lot to be recorded and finds putting the "full picture" together of lost Inverness an extremely fascinating and satisfying project, reproducing each street in its entirety in a way in which it has not been seen for many a year.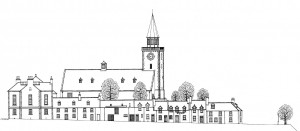 Sad though it is that numerous buildings and entire streets have disappeared from Inverness over the years, there is still an abundance of information to be uncovered and to be put together in more panoramic street views of yesteryear – "a bit like piecing together a large jigsaw."
Gordon's most recent Moment in Time project was both sides of Academy Street as the buildings appeared in 1920, for the Academy Street Townscape Heritage Project. Visit the ASTHP website to see the drawings. Gordon's next project is for Church Street and if readers can contribute photographs of any of the buildings or shop fronts he would be most grateful. Even group photos or images of parked cars would be of use…after all, it's actually the buildings in the background we are interested in.
Please email any images or information on Church Street to Gordon at [email protected]        
Details on how to purchase prints from the Gordon Lynn Project can be obtained from the Print Shop page on this website.